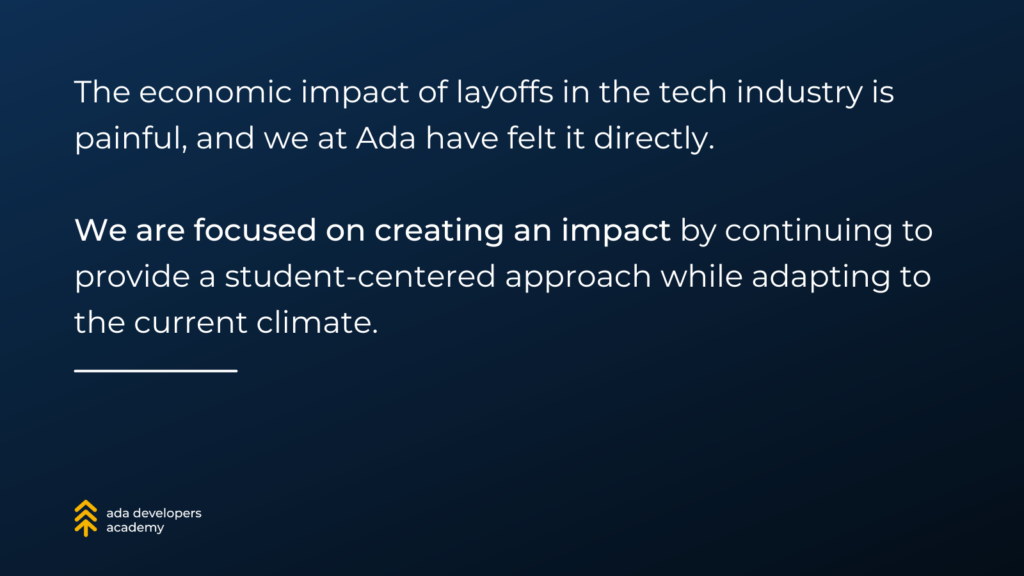 Today is a difficult moment at Ada Developers Academy. The contraction in the tech industry continues to adversely impact our work. We have experienced a decreased demand for software development talent in the consumer-based tech space, resulting in a lack of critical internships for our current students, a significantly reduced student count for our upcoming cohorts, and a 45% reduction in Ada staff.
This week, we had to say goodbye to some incredibly talented and mission-driven people here at Ada. Layoffs are always painful. There is a real sense of loss for those leaving, especially in a community as passionate and tight-knit as we are at Ada. In the coming days, as we move through this loss and make necessary adaptations to our teams and program offerings, we will also hold fast to our community and our values.
At this moment, our goal is to persist so that we can continue to have the impact we all came here for to change the face of tech.
Our values remain central as we navigate this impact and help our departing staff in this time of transition: All impacted staff are eligible to receive severance pay, COBRA premiums, access to free professional therapy, and career transition services.
As for our program offerings, we will continue our community-centered approach to learning, wrap-around support, and social justice training for our students and partners.
What we are doing now to persist through this moment:
Reducing our student count in 2023 and 2024
Reducing our staff headcount
Restructuring and streamlining our teams to operate as efficiently as possible
Pivoting to incorporate changing market demands into our program
This is a challenging time for our community – not only because we are losing phenomenal colleagues but also because we know that this is a very real setback in our work to ensure women, gender-expansive people, and people of color have access to a voice in an industry that has such a profound impact on our everyday lives.
But we are no strangers to being knocked down or kept out of the industry. Ten years and 800 Adies (Ada alums) in, we have proven time and time again that we deserve a seat at the table. So, while our community is grieving now, we are also doing what women, gender-expansive people, and people of color have always done: we are finding a way forward and will not give up.