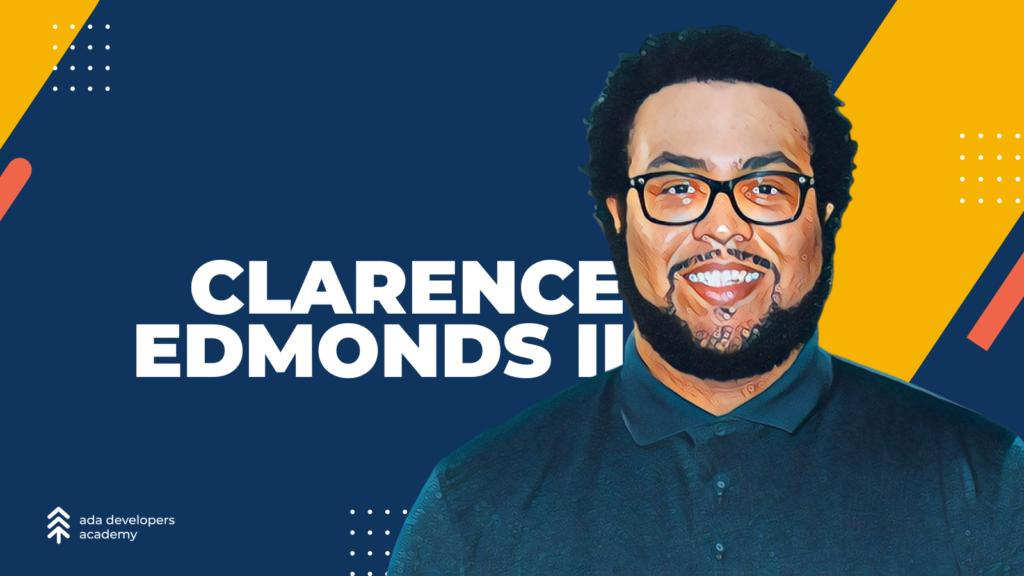 Strong community ties and giving back can fuel your spirit – because when you're around your people, something just clicks. Community is different for everyone. It can inspire, empower, or be a springboard for innovation. Helping not only feels good, but it can also make a difference. Build connections with your local organizations and get involved today. You never know the power of your contribution.
Clarence is an Ada Build Instructor and began his community efforts digitally during the start of the pandemic. Inspired by past mentors, Clarence continues to use creative outlets to help developers find their space in the tech world.
Curating an Inclusive Dev Space
Share with us how you are currently involved with your community and what that means to you.
"I have an interest in doing even more in my community, but my current involvement is partnered by my two college friends. We created a podcast, DevsLikeUs, to offer our experiences and expertise to folks looking to enter tech or folks already in the space. It is one of the reasons I've thoroughly enjoyed being a part of the Ada Build program. Community to me is everything because when we are a unit, the possibilities are endless with all the talents folks can combine together."
Making time for cultivating community and giving back outside of the 9-5 work schedule can be exhausting! What inspired you to get involved? What keeps you coming back or pushing forward?
"The inspiration sparks from naturally feeling great offering a helping hand or a listening ear to anyone in need. I also made a promise with a late mentor I had in high school that whenever able, always remember to reach a hand back and bring someone else up. This has stuck with me throughout my adult life that there is always a means to help someone else to an open door or opportunity or offering guidance."
Why does this particular calling bring you joy?
"There is something so exciting about sharing experiences and guidance with anyone that is either interested in a space or has dealt with similar experiences. We grow so much faster when we take a moment to learn together or learn from one another."
Any other thoughts you'd like to share about being a volunteer, finding your community, or anything else?
"Don't be afraid to step out of your comfort zone to connect with a community that aligns with your journey. It's always a bonus when you surround yourself with like-minded people and people who value each other's success."
You can connect with Clarence on LinkedIn!