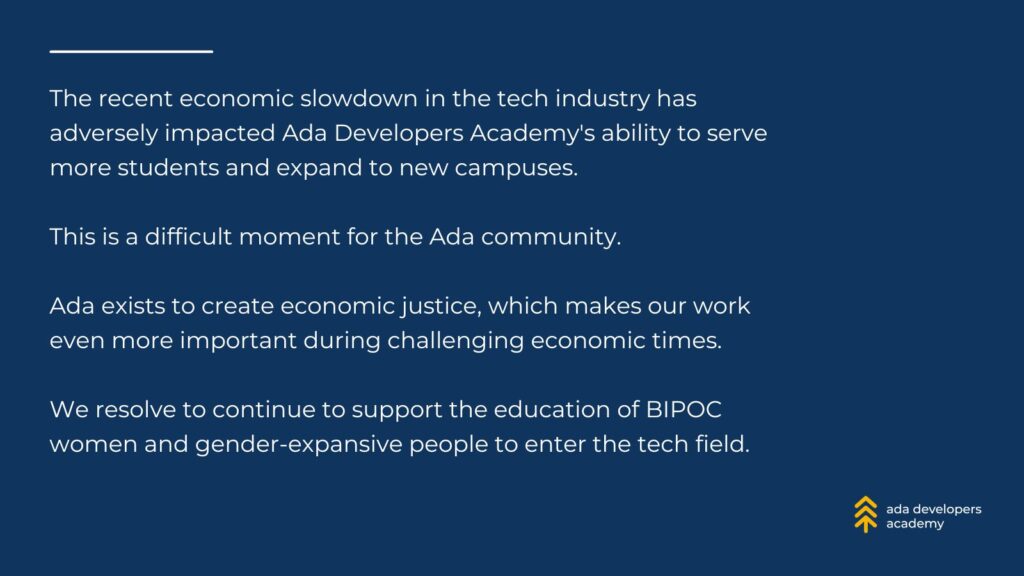 The recent economic slowdown in the tech industry has adversely impacted Ada Developers Academy's ability to serve more students and expand to new campuses. Due to hiring freezes and layoffs happening for our corporate partners, we face the reality that we must slow our growth. We had to make the hard decisions to reduce the number of open student seats for 2023 and downsize our team. Additionally, we are pausing our Accelerate program for 2023 and slowing our expansion to new cities.
We made these tough decisions guided by a few core values:
We will not compromise on the student experience.
We must consider each decision made through the lens of equity.
As such, Ada will continue to be tuition-free and provide resources to students and staff, including student supports such as childcare subsidies, laptops, therapy, stipends, and financial assistance for living expenses. We will also continue our equity training for corporate partners, students, and staff, which remains incredibly important during this time.
This is a difficult moment for the Ada community. Ada exists to create economic justice, which makes our work even more important during challenging economic times. We resolve to continue to support the education of BIPOC women and gender-expansive people to enter the tech field.