By Jenna Hanchard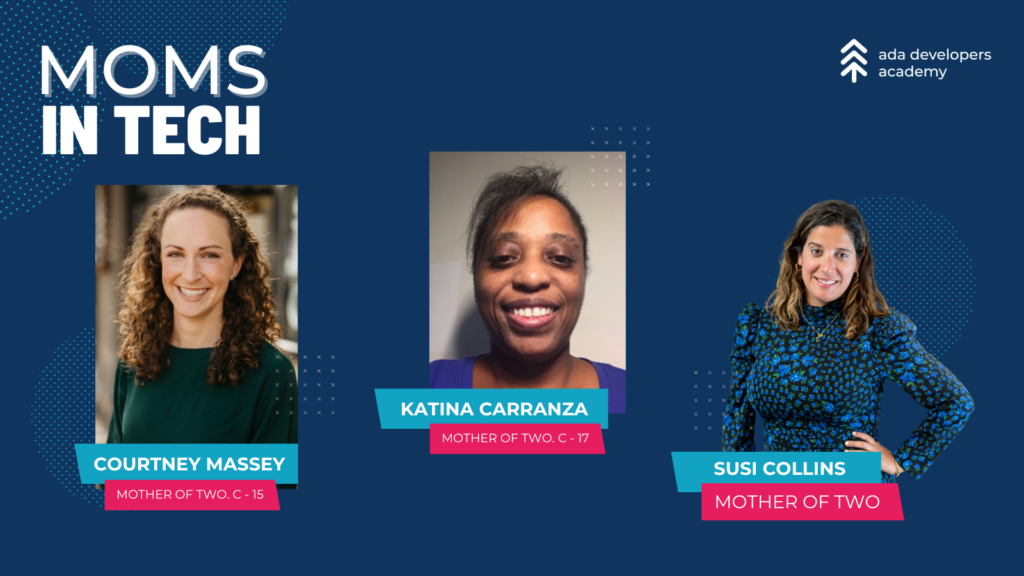 Ada Developers Academy supports a range of students across different intersections. Working parents don't have it easy, and we know that working mothers and femmes are disproportionately impacted by childcare and household labor responsibilities. Ada's program has supported birthing parents with childcare needs with free childcare at Ada's headquarters in Seattle.
We're engaging working mothers in our Ada community and beyond about their experiences making a career change in tech while having children at home. We're sharing their stories and their advice.
——–
Katina Carranza, a mother of two based in Arcadia, California, knew the only way she could transition into the tech industry was with creativity and support. Carranza is part of Ada Developers Academy's student cohort 17.
"There was not much support to transition into development unless you have a program like Ada," said Caranza. "I have two kids. The older one is 16, and the other one is 11."
Recently completing her classroom portion of Ada's program, Katina reflected on her experience juggling the classroom and caretaking. Katina decided to make her kids part of the learning.
"My capstone project was a unity game, and it's because my 11-year-old was interested in unity games. He wanted to learn how to make a Minecraft game. It was really fun. My project was named after him; it was 'Pascal's Triangle.' It was fun incorporating him into the learning process. [My kids] sat with me. They learned as much as I did. They're very tech-savvy. Anytime I ran some code, they tested it for me."
Katina said if she were too busy to incorporate her kids into the process, she would remind them when she could come back to them.
"I would say, 'Mommy's in the middle of doing something. Is it okay if I can come back to you in 20-minutes?' My son would write notes and stick them on the screen about things he wanted to do when I finished working."
Katina transitioned from IT support to Ada in 2022 and recently started her internship at SAP, a software company.
Katina said incorporating her kids into the learning process and asking for support from her network early helped her. Her words of advice:
"My friends have helped out a lot. You'd be surprised how many people would be willing to help you. Say to your friends, 'I'm trying to make this transition into tech. I will need some extra support. I've made a schedule. Do you have an hour or two to help me during this time period?'
"Don't be afraid, speak up when you need help, and don't suffer in silence. Make sure that you're taking care of the kids. Schedule everything, including free time," said Caranza.
For parents with younger children, such as Ada Cohort 15 student Courtney Massey, parent of two, support from Ada and her network was crucial.
"Ada truly made me feel like parents were welcome. I was wildly fortunate to have my 5-month-old enrolled in the on-site childcare. I felt supported in breastfeeding him on campus, and it was truly wonderful to be in close proximity to him since he was still so young.
The transition was definitely tough. There were late nights, times when I felt spread thin, and moments where I felt like I was falling short across the board. But, I'm really proud of myself for doing the hard work," said Massey.
Massey transitioned from work as a math teacher into a developer at Pinterest.
"I was coming out of a career that left me feeling depleted and undervalued. I was overworked and underpaid, and the stress of feeling like my work was never done was carrying over into my family life. Also, my salary didn't come close to covering the cost of childcare for two kids, so it was hard to feel like my work mattered.
Once I started to believe that I could make a change, I got really excited about the opportunity to be in a field that would value my skills and provide continuous opportunity for growth and learning. "
Massey said she knew the transition wouldn't be easy.
"I already knew that full-time parenting was the hardest job in the world, so I felt ready to make the transition. I figured it would be tough, but I had great support from my partner and knew that what was on the other side was worth working hard for. "
Her words of advice for working mothers transitioning into tech:
"Say yes to help. Lean on your support system, ask for a mentor who is a parent, and build relationships with other parents going through the same experience. Be realistic with the expectations you put on yourself. You're probably not going to have time for the extra assignments or recommended readings, but you will bring a perspective to tech that is so important. You already have the ability to prioritize and lead with empathy, which will be an asset in your studies and future job! It will be tough, but it will be worth it."
For some mothers outside Ada Developers Academy, such as Susi Collins, Senior Director of Global Equality at Salesforce, transitioning into tech was essential for her family and presented a long-term financial equity opportunity.
Collins said setting up clear communication with her managers was essential to her transition in balancing parenting and work.
"Family comes first, so I needed a role that supported flexibility and appreciation for working parents and caregivers. Through communication, I could set up the expectations and boundaries for success in my job while attending to my sons. I also had the privilege of having my mom living with us, so she helped a lot as my partner and I work full time."
Collin's words of advice for working mothers transitioning into tech:
"Go for it! We need greater representation of women in the tech sector. Working parents bring excellent talents to the workforce because they are efficient with their time management and drive great productivity and innovation."