Finding Your Fit In Tech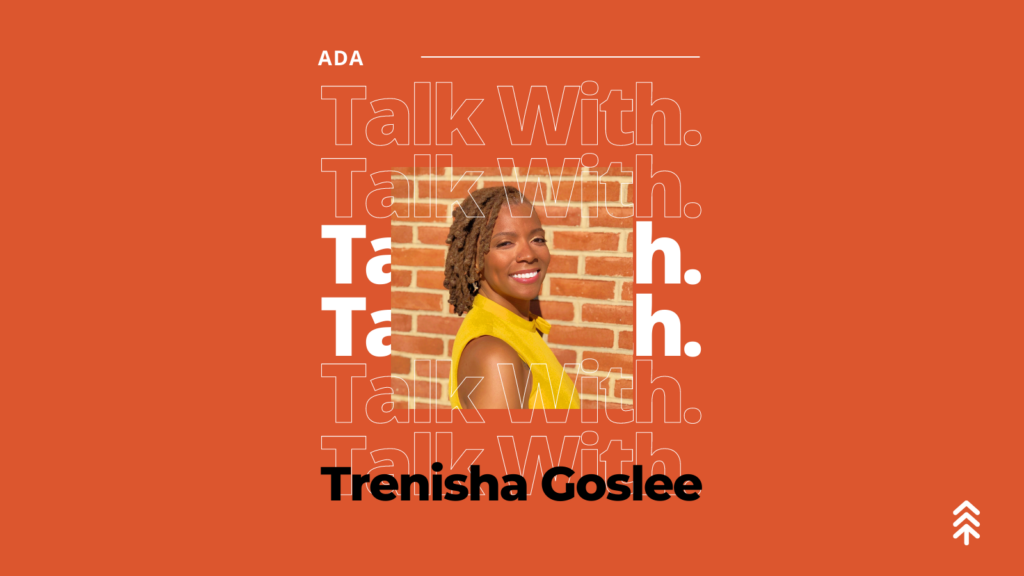 Ada Developers Academy is an immersive and intentional coding school prioritizing community over competition. But what happens after the classroom? What does it mean to "work in tech," and how can folks find positions that align with their interests?
Trenisha Goslee is a self-taught web developer with a passion for STEM Education. She's a Digital Instructor turned Program Director at Ada who came to Ada to merge her love for coding and education. She's passionate about teaching underrepresented youth how to code.
Jenna Hanchard, the Director of Content Development on the Equity & Policy Team, facilitated a Q&A with Trenisha, who shared more about her experience and what working in tech looks like across the country.
Meet Trenisha
Jenna: How did you know you wanted to be in tech? What was it about tech that drew you in?
Trenisha: I actually never knew I wanted to be in Tech. Since middle school, I have wanted to be a 7th grade math teacher! That is the path I took, and I taught middle school for 7 years. In my third year of teaching, I got the opportunity to start a STEM program for my school, and that is where I started to get interested in tech! My students and I started with STEM challenges and then robotics, where I got introduced to coding. We had so much fun learning and creating together that I continued learning on my own, and now I am here sharing what I've learned with others.
Jenna: What types of tech jobs have you had, and what have you liked the most about them?
Trenisha: I have taught STEM, Computer Science and Robotics. I am a UI Developer and current instructor at ADA. Teaching will always be what I truly enjoy. Seeing students' growth and success stories is such a joy. The fun part about being a UI Developer is seeing how users interact with the apps I build. Writing code and seeing it work is such a great feeling!
Jenna: You live on the east coast. What kind of tech jobs have you found in your area? As people look for their first job in tech, what is available to them off the west coast?
Trenisha: In my area, I usually see software developer jobs for the government/military because I am so close to The Capitol. Even though I don't work for the government, my work is still based in Defense Intelligence.
Jenna: What is your advice to folks in their first year in the tech industry? What do you wish someone would have told you?
Trenisha: My advice is to be kind to yourself. When I first started, I would be so frustrated that I didn't know all the ins and outs of React. I would compare myself to senior developers, which is definitely unrealistic. Be patient and ask questions. As a developer, you are always learning. I wish someone had told me that my value was not tied to my work a long time ago! It took me a while to realize that, but I'm so glad I have.
Jenna: Anything you want to add?
Trenisha: There are so many pathways in Tech! Find what you are passionate about and what is interesting to you. It doesn't have to be coding, or it can start as one thing and develop into something else. Think about if you want to work solo or on a team. Do you want to work from home or go into an office? Do you want to manage a product or develop the product? Do you want to design an app? Do you want to sell an app? Try different things, and if it's not for you, move on to the next thing.