Ada alum's advice for a career in tech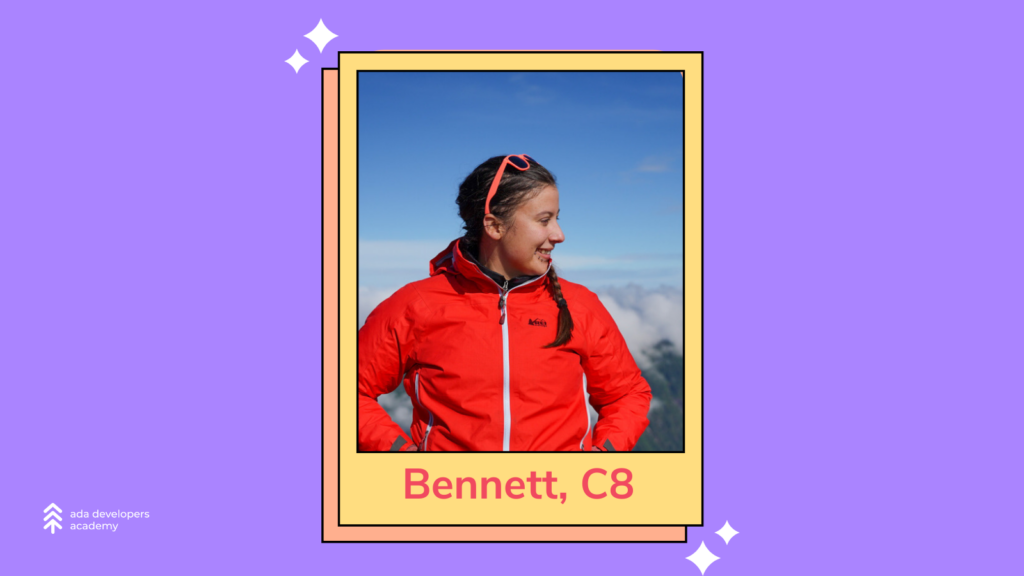 This Giving Tuesday, Adies share their journey to tech to inspire future coders to believe in themselves and get started! Bennett uncovers one of the best perks of a tech salary – finding time for yourself. Read more about Bennett's experience in the tech industry and how she uses her skills to build the life she always wanted.
Meet Bennett
Currently at Slalom Consulting
What motivated you to come to Ada and pursue a role in tech?
Bluntly – money and time. I was working as a middle school teacher, and while I loved my job, I did not love that I would consistently work 60 hours a week and make 35k a year and live paycheck to paycheck. I wanted more financial flexibility, and I wanted more time in my life to pursue passions.
How has Ada made an impact on your life?
Ada allowed me to spend only a year and no tuition money (which I did not have) on transitioning to a whole new career. I had felt pretty trapped in teaching. I was so afraid to go into a large amount of debt or to go back to school to pursue a different career, without knowing if I would even like that career. Ada made that choice a lot easier, not only financially but also emotionally. I was so afraid that I would have to fight tooth and nail to overcome all the things that make me "different" in tech (and in dominant society). Then I found this program that understood and celebrated that difference and even taught social justice themes – it felt like a sign from the universe that I had to pursue this. I no longer live paycheck to paycheck, and I have ample free time and energy to spend on what actually fills me up.
What's your biggest piece of advice for women and gender-expansive folks in tech?
Ada is a big boost, but it isn't a silver bullet. I honestly still hate working for "the man," and I largely find the tech industry to be soulless, and the work is pretty boring. But, I can now confidently say that my job is the least interesting thing about me. I have freedom and flexibility that I never had when I had a "passion career" and can actually pursue my passions on the side; I have time and space to rest and care for myself. It's not a perfect outcome, but it's a damn sight better than what I had before.
I suppose I'm supposed to say something about what it's like to be a fish out of water in a pond full of white dude-bros, but I suspect you already know what it's like to deal with them. I've found that despite having very little momentum to actually make change, nor any concrete education about what is and isn't acceptable in the workplace when it comes to "DEI," the tech world is at least interested in the appearance of caring. And because of that, if you speak up for yourself, usually someone will listen.
Do I wish we didn't have to be our own advocates? Obviously. Is it exhausting and demoralizing to constantly have to fight for your own existence? Incredibly so. But I take solace in the fact that I at least can go home at the end of the day and not think about any of them and take all my discretionary income and put it to good use in the world. It's not perfect, but it's better than where I came from.
Any other thoughts you'd like to share about your experience?
The year I spent as an Ada student and then intern was maybe one of the more difficult in my life. I went from having very little money to having no income. The feeling of constantly being new and unsure, overwhelmed by the sheer quantity of things I didn't know and had to learn, took all the already sapped emotional resources I had preserved. I also missed feeling like I had a purpose, and I missed my students. It didn't get easier right off the bat.
These days, I just feel so much less stressed. I don't know when it got better exactly, but I can leave my work at work, I never worry about money anymore, and I find purpose in other things. I'm very grateful.
Get Involved
If you'd like to help future students like Bennett through their life-changing journeys at Ada, please consider making a donation to our program today.
It's only through your support that our students can change their lives and diversify the tech industry from within! Mark your calendars for November 30th to join our #Increasethe3percent campaign this Giving Tuesday!