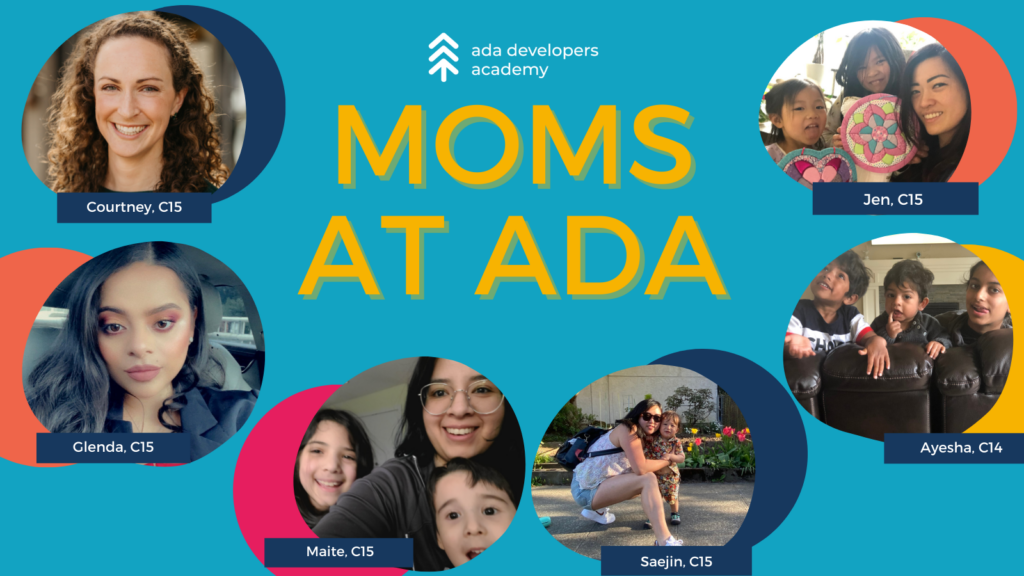 Learning how to code is a new venture for many Adies when they first join the Ada program. Whether leaving a full-time job to pursue software development, making a career shift, exploring a new avenue of problem-solving, the pathways to code are endless.
One pathway we will explore today is taking on the journey to code while being a parent. Is it possible? What does it look like? A handful of Adie parents share their experience parenting while programming.
"I've been a stay-at-home mom for almost a decade for both of my kids. I wanted to be upfront and center during their most developmental growth. The goal was always to return to work. I was in banking before being a stay-at-home mom. I was hesitant to go back because I found the work a bit boring and tedious. I didn't find myself challenged, and I was doing the same thing every day over and over. I thought, do I really want to do this again?" Jen, C15 Adie, and mother of two (ages 8yr and 5yr), is almost midway through Ada's classroom portion. Like so many others, she found Ada as a means to seek out a new career path with massive growth opportunities.
As a high school math teacher of ten years, Courtney, mom of two (ages 3yr and 6 months), found solace in leaving the profession for a different form of problem-solving she found in coding. "Parenting is already hard. It makes me hopeful to think I can be a parent and have a career. When I think back on teaching, it was taking over my life. I was having trouble not lesson planning into the night. I'm looking forward to a balanced career that gives me enough money to send two kids to daycare and feel like I'm in a role for career growth opportunities. That keeps me excited about being a role model for my kids. And showing them what a working fulfilled mom looks like."
Ada is a rigorous program. Five months are spent in the classroom and six months in internship. There is no guidebook to perfect the balancing act of studying and parenting. For Maite, C15 Adie, and mother of two (ages 8yr and 4yr), it was a challenge.
"When my kids were little, it was way harder. There was no time. When you are trying to sit down and do something, 20 minutes later, you have a toddler on your lap, and it doesn't work very well. As they get older, you get more time to yourself. You have to prioritize what you want to do more. Unfortunately, there is no trick to it. If you want to do it, you'll do it. Now that they are sleeping on their own, when they go to bed, I dive into code. When they are in school, I put all my time into learning. I am up late several nights, but it's worth it."
The sacrifice of family time is a hurdle Adie parents know well. Glenda, a C15 Adie and mother of one (age 10yr), explains how she prioritizes open communication with her daughter to manage expectations.
"My daughter has been very involved to the point where I was like, "oh my god, if I don't get in, then I'm going to have to tell her!" Luckily, I did get in. She knows what is going on, she knows, "right now I may not be able to pay as much attention to you as I usually do. But soon, I will be more economically independent. I will be able to provide for you better without having to worry too much about how to pay for it."
The early mornings and late nights mean moms have to stay organized. It turns out time management is the hidden artform behind each mother's ability to make it through the day. When asked about tips or tricks that have been successful in their day to day, the secrets came pouring in. Ayesha, C14 Adie, currently in the internship phase of the program and mother of three (ages 2yr, 5yr, 13yr), divulges her secret.
"I use this turn on and turn off model. From 5pm-8pm, I'd dedicate myself completely to family. No laptop, no Slack messages. Once I put the kids to sleep, I would work until 12pm. I knew I had to strike a balance, and time management was the key. If I had not given myself the due diligence of figuring out the right amount of time dedicated to each aspect that required my 100% dedication, I don't think I would have been able to come this far."
Maite keeps it visual. "I have calendars all over the place. Google calendar, on my phone, in my purse. With kids, you have to give yourself double the time."
While Saejin, C15 Adie, and mother of one (age 20 months) benefitted from pre-program prep.
"I was so bad with time management before I had a baby. And now, you don't really have a choice. You either do it now, or you're not going to be able to do it. That helps with procrastination, taking that option away. Preparing for Ada was making sure that he was more or less on a schedule. So I know when his nap is going to be, and it lines up with the Ada lunch schedule. It's a juggling act. Something always gets lost. You end up dropping a couple balls here and there. You just alternate which ones to drop throughout the month."
No mom does it alone. It takes a village. From private schools, au pairs, childcare, partner or family support, every parent emphasized finding a support group and accepting help when it's offered. Ayesha shares her avenues of support.
"My biggest strengths here to be able to continue my journey and transition into a full-time job are my husband and my parents. They have taken the role of taking care of the kids when I'm not there and filling in those gaps, so I am able to fulfill my internship successfully and not struggle. It gets easier in the internship. The classroom portion was challenging and kept me on my toes."
Courtney utilizes the childcare provided in Ada's main office.
"I say yes to help. If one kid didn't do this to me, the second one definitely made me realize I am not in control. It's been trickier this past year where help is not necessarily a person that can come and help. So, saying yes to folks dropping off meals. I certainly couldn't do it without the Ada childcare. That piece has been so reassuring and amazing. I am still a nursing mom so having my son around the corner is awesome. I can hop out and breastfeed and get back to it. That is something I could never have dreamed would have been an option, and I feel like I can do it all."
Remote work opportunities have skyrocketed since the pandemic, shutting down schools, childcare options and forcing moms to leave the workforce. Tech provides more flexibility for moms while frequently doubling or tripling previous salaries.
"Being in tech makes you less expendable, says Maite. I worked in customer service and retail. They are two completely different worlds. In tech, the salary is so much better. It seems you have more opportunities and more input in your team and how you do it. You blend in the background more when you are in customer service. Ada is a great community, and let's be honest, it's free. For a parent of two kids that have their own expenses, free is really nice."
Tech is the wealth generator of our time. The economic freedom tech can provide is pushing folks to the industry. Glenda shares, "I worked 5 days a week for 8hrs and couldn't rent a place on my own. I was not being paid well for what I was doing. I thought, "Am I supposed to live with my parents for all my life? How am I going to be able to provide for my daughter and pay for her school?" A whole paycheck goes to rent. If I do this [Ada] and can get a job, I can be out on my own. All these things are what keep me motivated. I am going to have a career that pays me well, and that's not something you can find every day."
The motivations and resilience of Adie parents not only keep their spirits afloat during their tech journey but inspire future parents to pursue a career in tech. On reflecting on how they got here and where they're going, would they recommend it? Is it all worth it?
Jen immediately states, "Do it!! Ada is such an amazing program. Even before the program started, I already felt support from the cohort, from the tutors to the admin. I have heard other alums say it is life-changing. I am feeling how much my life will be changed. My instructor said, "One day, you'll be an Ada alum." It felt so amazing hearing those words. I'm going to continue to be a part of this amazing group of people even after the program finishes. I never went to college, and I never got that feeling of being part of a community. I'm an Adie!"
Glenda echos the push to try something new and reinvest in yourself. "Go for it! The worst step is the one you don't take. I was looking for people with zero background in code—someone who has never coded before. If I can find someone who has never coded in their life, I can do it. If I can see parents in this class, this means I can do it. You can learn anything."
At the end of the day, Saejin shares, "Being a mom at Ada, there's part of it that has been a gift. You stay so motivated, and you are constantly reminded who you're doing this for."
Representation in the industry matters. You can't be what you can't see. Our Adie parents are a reminder of what's possible when you take a chance on yourself. "I feel like it's important for moms to be represented in the workplace. Even if it's hard, I think it's important to push through it and show that it can be done, for myself, for my family, for other moms who need to see moms in the workplace. I think it's important to get out there," says Courtney.
The journey of an Ada parent is unique. Each experience has different challenges. Yet through the sacrifice, the common thread is coming out on the other side with a strong community, impenetrable sense of self, and being an even better parent having filled your cup first.