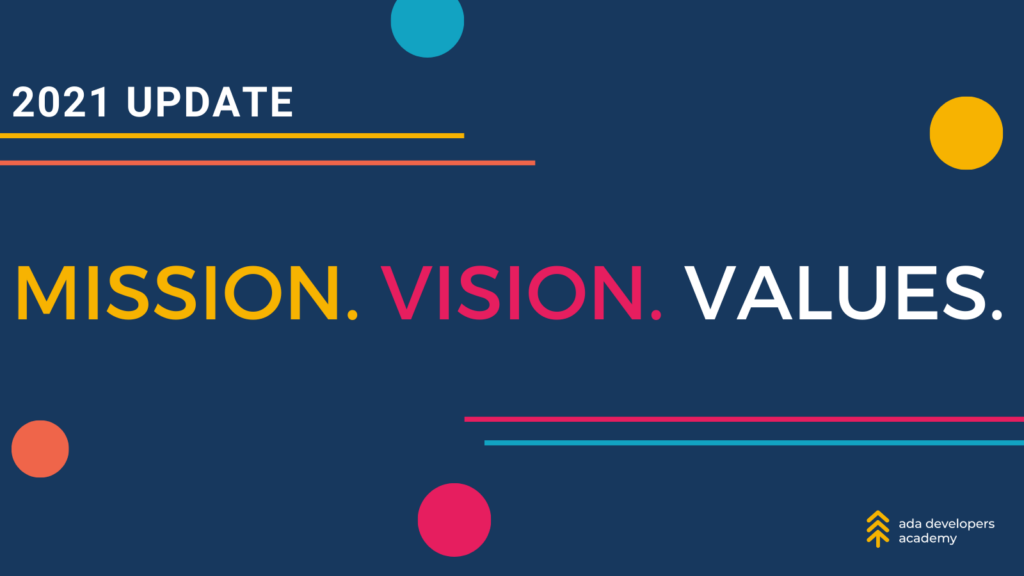 Over the past year, Ada has faced some unique challenges that led to significant changes in how we think about our impact. We have reevaluated our guiding principles through a robust planning process and aligned them around a new set of vision, mission, and values. These guiding principles will drive us to have the biggest impact we can while staying true to our program quality and core beliefs.
In engaging our community, it was essential for us to:
Gather and incorporate feedback. One example we heard was the need to address the communities we serve directly, instead of through an umbrella term such as "underrepresented minorities."
Address the significant increase in demand from both prospective students and corporate partners.
Establish values that drive program quality and impact.
We are thrilled to share the result of that work and look forward to bringing our new vision, mission, and values to life in partnership with this incredible community.
Vision
We envision a world in which Black and brown women & gender expansive people achieve economic power through careers in tech.
Mission
Ada's mission is to prepare women and gender expansive adults to be software developers while advocating for inclusive and equitable work environments. We prioritize serving Black, Latine, Indigenous Americans, Native Hawaiian & Pacific Islander, LGBTQIA+, and low-income people.
Our cost-free training program includes a collaborative learning environment, individualized support (mentors, tutors, a network of mental health support, affinity groups), and an applied learning internship.
We Welcome
While we welcome all women and gender expansive folks to apply, we want to provide clarity around which applicants we prioritize in the admissions process. While we acknowledge there is no hierarchy of oppressions and value everyone's unique lived experience, we know that some communities are systematically and disproportionately impacted by health, economic, and educational inequities.
Therefore we prioritize:
African Americans: Descendants of enslaved people throughout the United States
Gender Expansive people: Transgender men & women, and nonbinary folks
Asian Americans: Cambodian, Vietnamese, Thai, Laotian, Hmong, Indonesian, Filipino, Malaysian, Burmese, Brunei, Timor-Leste
Latine/Latinx people
Indigenous American people/ Alaskan Natives
Native Hawaiian and Pacific Islanders
Low-Income people
Values
We actively work to be anti-racist, inclusive, and equitable, with a focus on the impacts of intersectional diversity.
We hold a student-centered mindset and are committed to delivering a high-quality experience that appropriately challenges students.
We are an authentic community of learners with a growth mindset.
We take accountability for our work as individuals because we are part of a team that supports and can count on each other.
We take ownership of our work: we admit to our mistakes, take responsibility for creating solutions, and consider the impact on staff and students when we make decisions.
We are impact-driven. We strive to innovate and embrace change that leads to increasing the impact of our work.
What's Next?
With these new guideposts in mind, we are on a course to expand our impact through the following initiatives.
Ada Build: increasing the number of Black, Latine, Indigenous Americans, and Native Hawaiian & Pacific Islanders who are well prepared to successfully apply to Ada.
Core Growth: increasing the number of students we are serving in our 11-month training program.
Lovelace Learning Labs: increasing the number of alums who are moving into management and leadership positions through our continuing education seminars.
Geography: growing to new communities across the country, starting with a focus on the greater Atlanta area.
Ada Accelerate: piloting a condensed version (7 months) of our program for those who have attended other bootcamps but remain unemployed or underemployed.
Get Involved!
As we continue to expand our impact, we are always in need of additional volunteers to support our phenomenal students. If you are interested in becoming an Ada mentor or tutor, please check out available opportunities here.