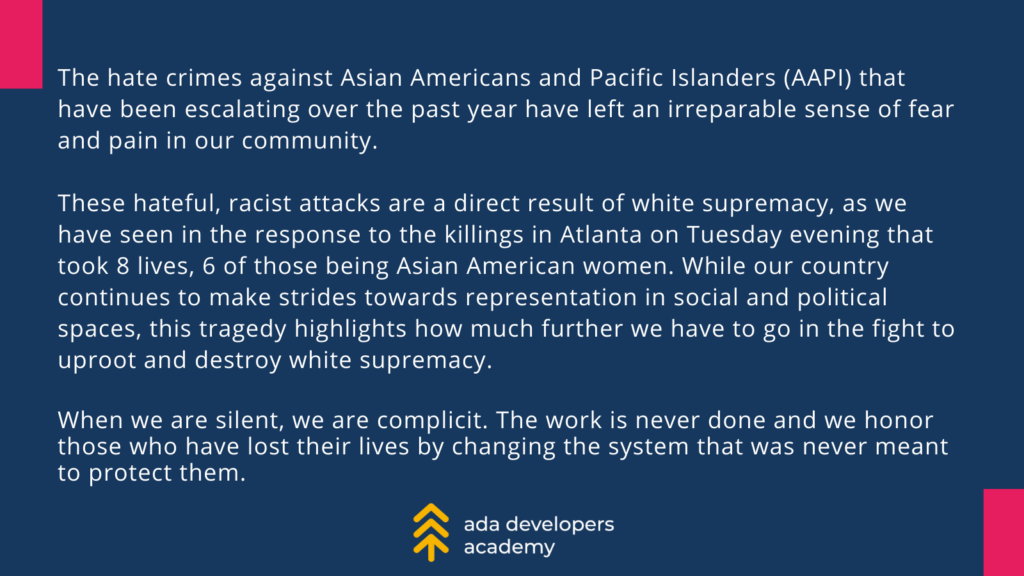 At Ada, we have spent the last week with our AAPI students and staff – holding space and taking care of each other. Our hearts are broken, and our community is scared and grieving.
We are calling on our broader Ada community to do more than condemn these actions. We must acknowledge the longstanding history of anti-Asian sentiment in this country and the dramatic underrepresentation of Asian Americans across our institutions. These deep-seated biases and historic actions of our nation are rooted in white supremacist and misogynistic violence, and have left our Asian American community feeling invisible and disposable. The pain is not new, but we must meet this moment of unrelenting injustice with courage, action, and solidarity.
Take Action
Learn more about the history of AAPI communities – these stories are missing from our history books, and it is our duty to find and share them
Donate or volunteer with one of the organizations below
Have conversations within your own communities
When we are silent, we are complicit. The work is never done and we honor those who have lost their lives by changing the system that was never meant to protect them.
The Ada Developers Academy community is committed to holding ourselves accountable to the communities we serve, and to doing our part to hold our society accountable as well.
AAPI Community Supports
Seattle-based Organizations
Densho preserves and shares the history of the WWII incarceration of Japanese Americans to promote equity and justice today.
Asian Counseling and Referral Services promotes social justice and the well-being and empowerment of Asian Americans and Pacific Islanders and other underserved communities – including immigrants, refugees, and American-born – by developing, providing and advocating for innovative, effective, and efficient community-based multilingual and multicultural services.
Wing Luke Museum connects everyone to the dynamic history, cultures, and art of Asian Pacific Americans through vivid storytelling and inspiring experiences to advance racial and social equity.
Panama Hotel was essential to the Japanese community, the building housed businesses, a bathhouse, sleeping quarters for residents and visitors, and restaurants.
APIChaya empowers survivors of gender-based violence and human trafficking to gain safety, connection, and wellness. APIChaya builds power by educating and mobilizing South Asian, Asian, Pacific Islander, and all immigrant communities to end exploitation, creating a world where all people can heal and thrive.
From Hiroshima to Hope has been created by local peace, faith, and community organizations every year since 1984. FHTH puts on an annual program of the same name, currently in its 36th year, that commemorates the anniversary of the 1945 atomic bombings of Hiroshima and Nagasaki by the United States during World War II and remembers those who lost their lives.
Atlanta-based Organizations
NAAAP Atlanta: The National Association of Asian American Professionals is a non-profit organization that cultivates and empowers Asian & Pacific Islander leaders through professional development, community service, and networking.
Asian Americans Advancing Justice – Atlanta is the first and only nonprofit legal advocacy organization dedicated to protecting the civil rights of Asian Americans, Native Hawaiians, and Pacific Islanders (AANHPI) in Georgia and the Southeast.
Korean American Coalition Metro Atlanta educates and empowers the Korean-American community in order to encourage participation in civic affairs and to create partnerships among community members.
Asian American Advocacy Fund advocates for the civil and human rights of Asian Americans, Pacific Islanders, and Native Hawaiians in Georgia.
National Organizations
Red Canary Song is the only grassroots Chinese massage parlor worker coalition in the U.S. There are over 9000 workplaces like these across the country with no political representation or access to labor rights or collective organizing. Anti-trafficking NGO's that claim to speak for migrants in sex trades promote increased policing and immigration control, which harms rather than helps migrant sex workers. We also organize transnationally with Asian sex workers across the diaspora in Toronto, Paris, and Hong Kong.
Stop AAPI Hate stands united against racism. Hate against Asian American Pacific Islander communities has risen during the COVID-19 pandemic and together we can stop it.
Tsuru for Solidarity is a nonviolent, direct action project of Japanese American social justice advocates and allies working to end detention sites and support directly impacted immigrant and refugee communities that are being targeted by racist, inhumane immigration policies.
Asian Mental Health Collective's vision is to make mental health easily available, approachable, and accessible to Asian communities worldwide.