Interview lead by Rakia Wells, Communication Specialist
This is Part 2 of a 3 part series highlighting the experiences of Black Adies at Ada and beyond.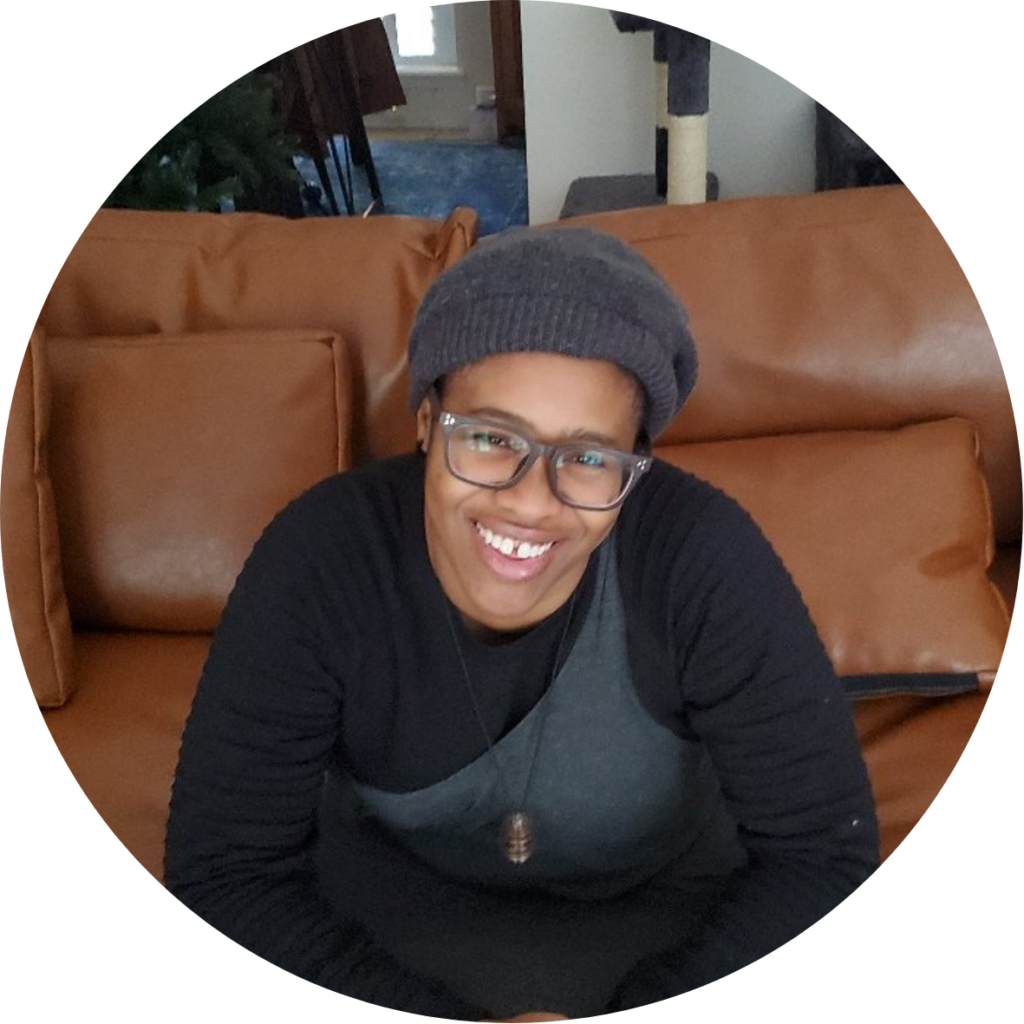 Lynn Griffin
Cohort 10
Currently at: Indeed
Lynn Griffin (they/them) and I comment on the warm sunlight coming through the blinds and the Pacific Northwest's lack thereof. Hailing from Phoenix and initiating a solo road trip to the Emerald City, Lynn paints the picture of how they found themselves at Ada Developers Academy.
LG: My journey to tech started with another passion, massage therapy. I was a massage therapist.
I did in-home massage, and one of my first clients was a software developer. He would show me what he was working on and what he did. He was also Black and just got out of the Air Force. He really inspired me to try something new.
In my free time, I would get on Codecademy and try to learn new things. Which led me down a path of, "Okay, how can I apply this in my real life?" While being a massage therapist, I was also a job coach. I worked with young adults with disabilities. I wanted to create a website for my program, but there were things about creating a website that I just didn't know. I thought about going back to school, but I started to look for programs that I could join.
Ada was a program I had looked at and didn't think that I was ready for. I had been working on code for a year but I didn't think I knew enough. After looking at it in my bookmarks for months and months and months, something happened that gave me the courage to apply.
RW: What happened?
LG: My mother decided she was done with the US and was going to teach abroad. She was a principal of an elementary school, and she was going to open up a brand new international school in Dubai. She was starting new. She was a little scared of the unknown but had this faith that if you really want something, you just go for it. That gave me the courage I needed to just be like, "this is something that I'm interested in, and I want to go after it." So I applied.
RW: Since you were new to the field, what were your biggest challenges during the program?
LG: I'd say balance. Finding that balance between work and time. It wasn't easy to manage that balance to make sure I didn't burn out. And being away from my family. I'm really committed to my family. So coming out and doing Ada was really hard because I had to focus on myself. A lot of things came up that made it really difficult. I lost two aunts while I was at Ada, months apart. And then, a few weeks later, my older sister had a stroke. Then it was my birthday. I felt helpless. I wanted to go home.
My grandmother and my mother said, "no, stay and stick to what you're doing." I'm glad that I did. Even though I wonder what would have happened if I didn't. That made it really difficult to be at Ada.
In terms of technicality, some of the things you learn are difficult to absorb in such a short amount of time. But my cohort made it better. There were crying sessions. There were hugging sessions. There were "me too, samsies, yasss" moments. I think having a community that understands helps get you through those tough moments. So I'm really thankful for my cohort, C10. Whoop Whoop!
"Before, I was a job coach, and I helped people find jobs on Indeed. Now I work at Indeed."
RW: Wow. Lynn, you should be really proud of yourself. I'm glad you had such an amazing community of support in Seattle.
LG: I felt like finding community outside of Ada was difficult because of like, there's that thing in Seattle…
RW: The Seattle freeze?
LG: The Seattle freeze [nods]. I really just kind of stuck with my cohort, and I felt really bonded and connected. They were the last people I saw, right before I moved down here [to Austin, TX]. We had a social distance hangout at Gas Works, and that meant a lot.
RW: What would you say was your biggest win during the program?
LG: Definitely getting the internship that I got. Before, I was a job coach, and I helped people find jobs on Indeed. Now I work at indeed.
RW: Wow, you went full circle!
LG: Full circle! I'm still helping people find jobs, just in a different way. I'm also problem-solving and learning new things at work, which is still so satisfying. There are people who've been in the industry for 10 years who might have lost that. I still haven't. I love it. [laughter] I love taking on more responsibility. I love being able to run a meeting, even though it's still nerve-racking. Yeah, I love it.
RW: When taking on more responsibility, how do you protect your mental space and wellness on the job?
LG: Because I'm on Central Time, while my company is Pacific, I start later in the day. 9am in Seattle is 11am here, and it makes a difference. I make myself some tea. I get to hang out with my cat and kitten. There's a painting of my cat right there [points to their painting]. One of the things lacking in my life in Seattle was space. Here in Austin, we have a front yard and a side yard, a garden, and then a backyard with a bunch of trees. The neighbors have chickens and peacocks. There's nature all around. I suffer from seasonal depression. So being in a sunny place makes a huge difference in my overall energy and mood. I really try to embrace the morning.
And time with a kitten is a great stress reliever. They have no care in the world. They just want to jump off everything.
RW: Every software engineer should get a kitten. That's what I'm hearing.
LG: I say yes. Kittens are like dogs. They want to eat everything, run around, and play. [we start to laugh]
RW: So you went from Phoenix to Seattle, and now you're in Austin. How else has your life changed since Ada?
LG: I am definitely more financially secure. And I'm in a place where I can better support the people around me. Now that we're in a pandemic, I can help my sister, who just graduated from college and is looking for a job. I can help my brother, who's also struggling with the same and has to support my nephew, who's working and going to school from home. My mom, who's abroad, is also dealing with the same thing. Schools are shut down. Being able to support them like that [financially] means so much to me.
And it's really just changed the quality of my life.
"I was also surprised or not surprised, to have someone from a previous team tell me, 'conversations like that always happen. But if you're not white, you wouldn't hear them.'"
RW: Is there anything that has surprised you by entering the tech industry?
LG: I'm surprised by some of the things I've experienced. Not as someone coming from a nontraditional background, but as a person of color. I've had conversations with people, and they were kind of blatantly racist.
Towards the beginning of the pandemic, there were a lot of protests and police-related shootings and killings. A lot of emotions were heightened. And I was surprised by the lack of support.
My company made a gesture to support Black Lives Matter. And so many people at this company, which has very progressive values, were not for it. It's almost like they felt protected. Or no harm could come to them by speaking out against their own company's values. I was surprised by that.
I was also surprised or not surprised to have someone from a previous team tell me, "conversations like that always happen. But if you're not white, you wouldn't hear them." That's not what I'm about. Depending on where you are, it either gets easier or harder to spot. And I'm thankful that the team I work with supports me as a person of color and as someone who identifies as nonbinary. Especially in this day and age where people are struggling to feel safe, it means a lot. It definitely means a lot.
RW: I can only imagine the conversations happening in a space that didn't feel safe. Lynn, what piece of advice would you give to Black folks considering a place in tech?
LG: I would tell them imposter syndrome is a real thing and to have a strategy for combating that in place. That's going to make a huge difference. I feel like so much of what brought my cohort together was combating imposter syndrome.
And finding companies that support you. I understand that sometimes, you have to start from somewhere, and you might be in an environment that isn't very supportive. But once you get what you can, find companies that support you and go there. That's important.
RW: If you could say anything to yourself, day one at Ada, what would you say?
LG: It is okay to ask for help. It's okay to ask for help. And what you are feeling, everyone around you is feeling too.
RW: Lynn, thank you so much for sharing your story with me. I think it's so cool to see where you started and where you are now. You should be so proud of yourself. Ada is not easy.
LG: It's the hardest thing I've ever done.
After a pause, Lynn smiles. The room is bathed in sunlight from the Austin sun. We wrap up the interview with a fun anecdote of the kittens, say our goodbyes, and click "leave meeting."
You can find Lynn on IG @fly_away_griffyn or LinkedIn