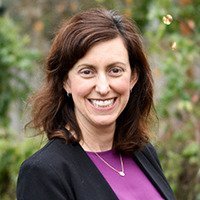 Welcome to the Ada Developers Community! Tell us what drew you to serve on the Ada advisory board?
I am passionate about providing education for young people, especially underrepresented students. My first job out of college was in software development, but while I liked the work and was good at it, it didn't feel like I fit in or belonged, and I certainly wasn't supported by my managers. I was able to use my computer programmer skills — data management and applications building — and transfer those in my career. Serving on Ada's advisory board means I'll be able to focus on providing gender diverse people and women more opportunities to access high-wage, high-demand jobs and stay in the field.
How do you see your board role help move us forward?
I'm on several other boards and I've worked with many non-profits. I can lend my experience providing high-level support to the Executive Director and assisting with Ada's financial stability. Most importantly, I will be actively listening to Ada's community and staff.
By partnering with Ada's other board members and the Ada community, we can stay focused and ensure there is enough funding and support for the staff and community. I'm excited to make that happen for Ada.
Please share with the community aspects of your background that tie into the Ada community.
I deeply empathize with people outside the majority demographic in tech. Not feeling welcome early in my career, despite being really good at the work, I feel I can relate to Ada's community. I've worked with progressive non-profits and I love learning and talking about racial awareness and justice as well as gender awareness and justice.
I've also been an Interim Executive Director, a Board President, and I've hired Executive Directors, so I have compassion for Ada's state as the organization grows. My leadership perspective can help move the organization forward.
What are your primary objectives during your Ada board term?
My first objective is to connect. I want to understand Ada's communities on a much deeper level. I want to get to know the board, alums, and staff and understand where these different constituencies want Ada to go, what they want it to be. I want to be supportive in the way an advisory board member should be supportive. Only by this connection can the board form a clear picture of the ideal Executive Director we need. This is such a critical step and I take it very seriously.
What gender-diverse person or woman in STEM inspires you, and why?
I will be honest that there is a surprising lack of women who come to mind. No doubt when I hear about the accomplishments of Ada Lovelace, Mae Jemison, and so many more fabulous women, I am inspired! But I am equally inspired by all of the women and the discoveries that I don't know, and who I may never know about, but whose work influences my every day. Welling up inside of me as I think about this is the same passion for justice that I felt when I first watched Hidden Figures – and 20 Feet from Stardom (I'm a music lover) – and I learned about the massive contributions to our world made by women who never, or certainly not in a timely manner, got the credit they deserved.
Where would you like to see Ada in a year or so?
I would like to see Ada embracing a new Executive Director. I hope that person will be empathetic, organized, and simultaneously visionary and responsive. I hope that the board and new Executive Director can provide clarity and answer questions from the Ada community. This will help with the overall objective of Ada meeting the need and overwhelming desire of gender diverse people and women get into the tech field.
Do you have an initial message to the Ada community you'd like to share?
I'm excited to be here, learn more, and help this organization be awesome!
Connect with Rachel directly on LinkedIn at