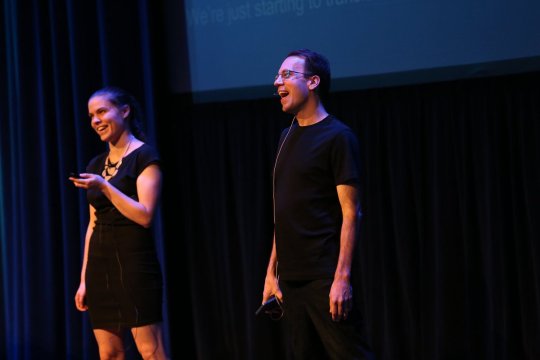 How long have you been an Ada Supporter?
I moved to Seattle earlier this year to start Binomial with my business partner Rich, and we started actively supporting Ada then! I love the Ada Developers Academy's program and commitment to their community.
What inspires you about Ada?
I think getting more women into programming careers is so important. As a woman in an especially male dominated field within computer science, I see the need for this first-hand. I like that Ada accepts all women (including people who identify as trans or non-binary), aims to teach a diverse group of women, and doesn't expect a college degree or much computer science background before women enter the program.
How long have you been in the industry?
I've been in this industry for the past four years.

What keeps your motivated to work in tech?
Computers are absolutely magical, and powerful tools. Programming to me is like my art, and one that I can use to make a living and change people's lives.
With our company now, we aim to work on tech that we really love (compression is amazing), while using the power we have in running a small company to teach others and give back to our community.
What advice can you offer Ada graduates?
Remember that being different from others is often a huge advantage, and helps others feel more welcome too– be yourself whenever you can.
Finding a good job definitely involves working on tech you love, but a huge part of what makes a workplace good is how much you like your team.
Get involved in your local community as much as you can. For VR, there's the VR/AR Collective, Seattle VR Meetup, Eastside VR Meetup, and much more! Not only are you helping others out by doing this, but people will support you too.
And good luck, have fun! 🙂