Jennie moved to Seattle with her daughter, Holiday, from
Virginia this year for the Ada program. Prior to Ada, she was a teacher in
Spain for 5 years when she decided she wanted to change careers. We wanted to
sit down with Jennie to learn how her path led her here.
How did you discover
programming?
I started teaching technology classes for high school and
middle school students. Back then, there was a big push for more coding. I
wrote a proposal for an intro to programming course and it had a lot of success
with the parents and students. From teaching the class I realized I was
interested in programming. I started taking an Intro to Java programming on
Udacity and I was able to study once my daughter went to bed. I enjoyed it and
thought it should be something I pursued as a career.
Why did you choose to
apply to Ada?
I researched colleges and 4 years was too long for me
personally. If you're 18 then it works. If you're an adult and trying to change
careers it doesn't make sense. Also, internships were unique with Ada. I liked
that it was tuition-free even though you still have to worry about the cost of
living. Looking at Twitter and Facebook, the Ada community was very unique and
everyone stayed connected.
Can you tell me a
little bit about your living situation in Seattle?
I was lucky to get a cheaper rent option since my mom had a
friend who lived in Seattle. My daughter goes to daycare here. I was able to
find a place near where I live. The daycare operates from 7am-6pm and anyone
can tell you I am the first to dart out of here at the end of class. It's
really scary to leave my child, but I feel fortunate and happy with my
situation.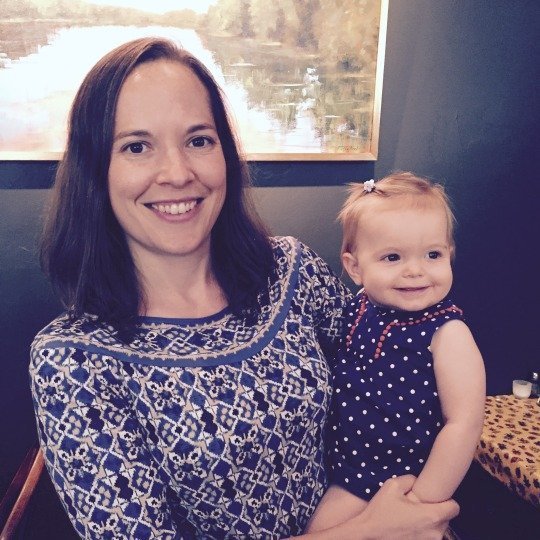 Since you've been in
the program, what is your day to day like?
Wakeup at 6:30am
Feed my daughter and have some coffee
I take Holiday to daycare and go to the park and ride
to catch the bus at 7:53 am
I get to Ada at 8:30 am and eat breakfast before
class starts
From 9-5, I have school
At 5, I'm the first person out of the door so I
can have time with Holiday
The lady I stay with picks up
Holiday from daycare and I get home at 6.
Dinner and bath time
I play with Holiday and read some books to her
Holiday goes to bed at 8 and I work on homework
I put out our clothes and prepare food for the next day
Finally, I shower and I go to bed
What's the most
challenging and rewarding part of being in the program?
The most challenging part was when Holiday had rough sleep
nights and was teething. Holiday was waking up a lot. It was hard because I was
so tired and I know I'm not in charge of those situations. That's why I try to
build the time into my routine like leaving extra early just to be careful.
Luckily, she hasn't been sick yet since we've been here. Moving here was also a lot more challenging as well.
The most rewarding part: I love being a mom in Ada. No one knows me as a mom here, which means I can just be myself. I also love being able to show that moms
can do this and moms have something to contribute to the tech industry and the
program. 
Any advice for
mothers considering Ada?
I suggest doing more than just Codecademy. You want to
really know that this it is something you love and something you want to put
your time into. You want to make sure you're doing it a lot to make sure you like
it. You can take classes on Udacity.com.
For people considering moving to Seattle, move as soon as
possible to get your life in order. I'm speaking from my experience of not having a spouse and
having to do all of this alone.  
You should look at your day to day and start planning it out
for success. Make sure to call on people who are your support.
Anything you would
like to add? What you
wish you had known before you became an Adie?
It's so important to be as prepared as possible. I also feel like it's a badge of honor
that I'm a mom and able to do Ada. If moms get in, they should keep telling
themselves how awesome they are.