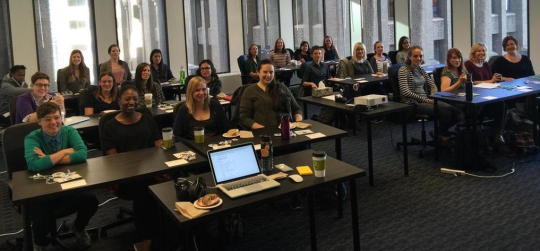 This week Ada Developer Academy's 4th cohort started class! The class of 24 women have spent
their first week settling into their new classroom space, getting to
know one another, running around Seattle for a team-building scavenger
hunt with Ada staff, and beginning to learn about bash and Ruby.
A year from now, this group of women will
join the 37 Ada graduates already working at Seattle tech companies (a
95%+ placement rate into dev jobs). And it's clear that our
classroom/internship training model is working: In the most recent
class, 68% of interns converted to full-time hires where they interned.
We received a record 272 submitted applications for the 24 spots in our 4th cohort, so it's a great achievement for all the women who are now a part of this group. That's an amazing 9% acceptance rate! So who made the cut? Here's some data about this group:
58% have a Bachelor's degree, 17% have a graduate degree.
The current cohort of Adies have degrees in Economics, Biology, Psychology, Mathematics, Mechanical Engineering, Industrial & Systems Engineering, Linguistics, Biochemistry, and more!
The group rages in age from 21 to 39.
28% of Ada students are from minority populations that are underrepresented in tech.
Here, in their own words, are more details about some of our newest Adies!
Desiree Poland

"I hope to be intellectually and creatively challenged, to learn enough for a solid foundation in software development, to learn and gain resources to continue learning further, and to receive guidance in developing a career in the field. My goal is to contribute in an environment where I am stimulated and challenged both logically and creatively."
Desiree has a B.S. in Biopsychology from UC Santa Barbara and was most recently working as a medical service coordinator.
**Rebecca Tolmach
**

"I have high hopes that this new path will lead me towards a real career where I feel fulfilled and challenged and awesome! I'm excited to meet Cohort 4 and the Adies that came before us and to feel like I'm part of a team. I want to work for a company with a mission I care about, and to work with good people and be appreciated for the work I do. Now I have a way to make those things
happen."
Rebecca was previously working as a tax preparer and has a B.A. in Psychology from Earlham College.
Annalee Herrera

"I hope to become a well-versed software developer with a strong network of empowered individuals that want to change the face of technology as we know it. I hope to connect with people and companies that are doing innovative and creative work. I hope to walk away with the skills and ability to obtain a position in software development with said companies."
Annalee has a B.S. in Biology from the University of Washington and was most recently the Program Coordinator at Techbridge Girls, a nonprofit that inspires girls to discover a passion for technology, science and engineering.
**Jennie Buechner
**

"I hope to get a strong foundational understanding of web programming, best practices, professional work flows, etc. I also hope to get my foot in the door in this new career field. I'm excited about being in a supportive learning community with classmates and teachers."
Jennie was previously a teacher, technology integration specialist, and technology coordinator. She has a B.A. in Psychology from the University of Virginia, a Masters in Teaching (Elementary education, K-8) from the University of Virginia's Curry School of Education, and a Masters in Learning Technologies (Focus in Learning in Game-Based Environments) from Drexel University.