WE ARE READY TO TAKE ON THE CHALLENGE!

A grant from Racial Equity 2030 will allow us to grow our capacity and impact. We are confident that we can sustain that growth through our equitable funding model. We subsist largely on contracts with our corporate sponsors, which account for 90% of our funding. At the same time, because we are a nonprofit, we do so in a way that is not exploitative of students. Ada carries the responsibility of educating our students without saddling them with obligations.
---
---
The global COVID-19 crisis has highlighted many of the weaknesses in our economic and social systems. Now, our country faces the challenge of how to recover and create a more inclusive and resilient economy that provides upward mobility and access to high paying jobs and secure health benefits to historically marginalized individuals.
The need to create opportunities for underrepresented minorities, women, people from low socio-economic status, and those who are part of the LGBTQIA+ community to build economic agency and become financially independent is greater than ever – and that's what Ada is here to do.
The economic power of Ada doesn't just benefit individuals, but whole communities.
---
We Are Ready to Grow.
There is already more demand than we can meet from potential new students. Last year we were only able to accept 11% of over 400 applications received. We are already seeing immediate interest from corporate partners in other cities, and there is more demand for Ada interns than we can currently accommodate.
With 439 alum working at more than sixty-five of the top tech companies in Seattle since 2013, we know our program works – and with the help of Racial Equity 2030, we are ready to expand our impact across the country.
Through partnerships with corporate offices in 4 additional strategic locations across the U.S. and a virtual classroom, students will be able to attend Ada's 6-month program anywhere, and participate in a 5.5 month internship in one of our partnership cities.
---

"We are leaving Ada with more than just software engineering skills. We are leaving Ada with the conviction that we must change the world; and this program has prepped us with the tools of empathy, solid community and a passion and dedication for inclusion in Tech that we will need to make these changes."

– Kelsey Krippaehne, Cohort 12 Graduate
---
A few of our long-standing corporate partners: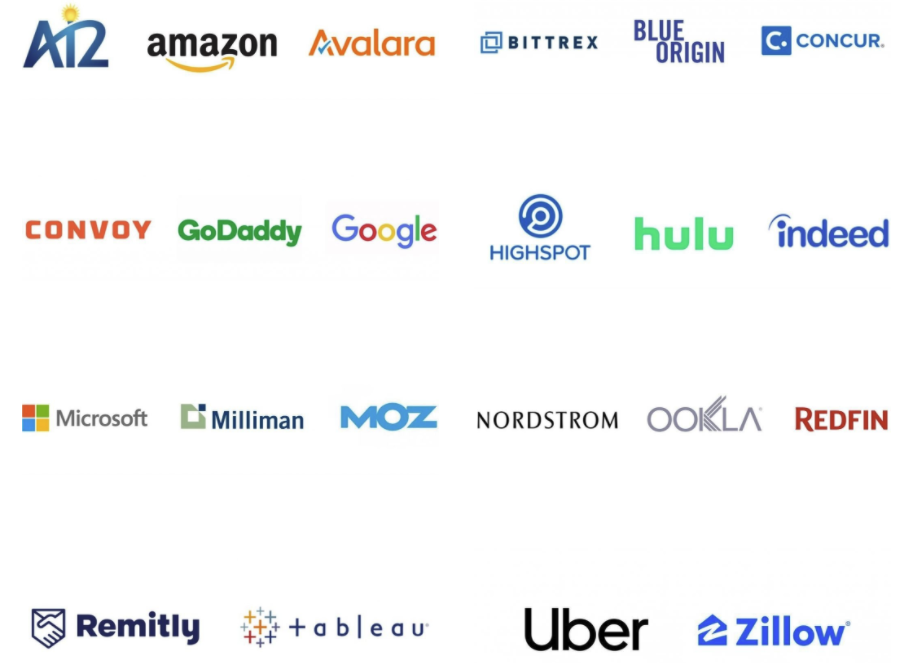 ---
Ada is Unstoppable.