Fight For Equity In Tech
This GiveBIG, we are raising $50,000 to support even more women and gender-expansive folks to break into the tech industry. To continue to change the face of tech, we need your help.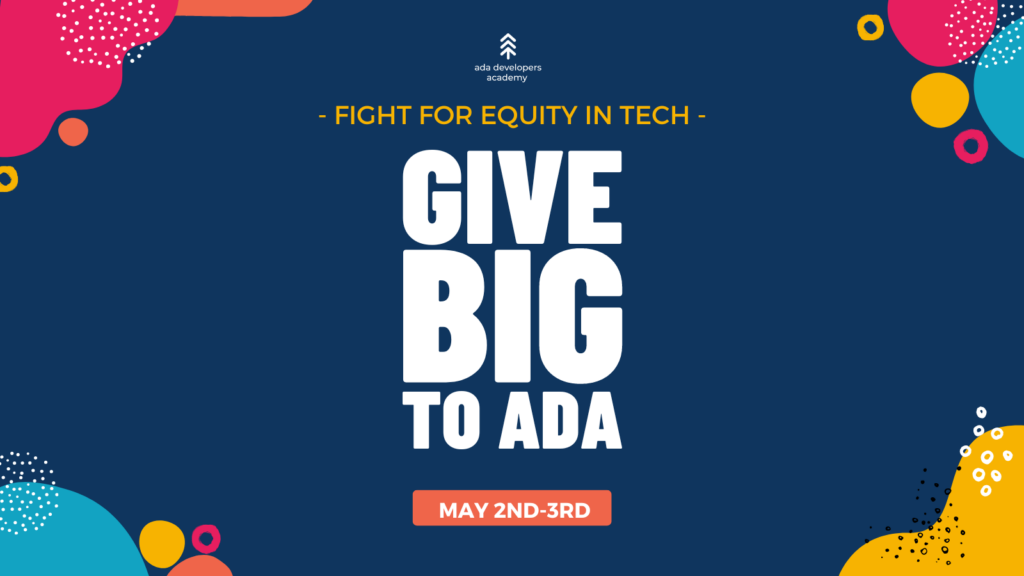 Every Dollar Makes A Difference
Your generous donations support:
500 Adies across three campuses
Wraparound supports for students: financial assistance, childcare subsidies, mental health therapy, and laptops
Outreach in the greater Washington, DC area
Expanded programming to lower barriers to entry
How can you get involved?
Mark your calendar for May 2nd and 3rd to join in the fun for this two day giving event!
Visit our giving page – early giving is open, so you can give TODAY 
Share the campaign on social media
Create a peer-to-peer giving page and send the link to your friends and colleagues.
26%. That's the percentage of software developers who are women
Only 4% of these software developers are women of color. When you donate to Ada, you drive gender and racial equity in the tech sector, helping us build resilient economies and thriving communities.
Are you ready to help more Adies break into the tech industry? Support future Adies to make their tech journey possible.
ADIES IN ACTION
Hear From OUR Alums
You Keep the Movement Going
Since 2013, Ada Developers Academy has graduated 800 new software developers and generated $50M in salaries for women and gender-expansive folks in the tech economy, narrowing gender and racial equity gaps in one of our most prosperous and influential sectors.