Learn to Code Online
Our Digital campus creates an online community unlike any other. If you need the flexibility to thrive in a remote learning setting, our Digital campus is 100% virtual. The campus offers access to a dedicated resource hub, weekly roundtable discussions, and peer-to-peer Slack channels enabling a safe learning space for students to collaborate.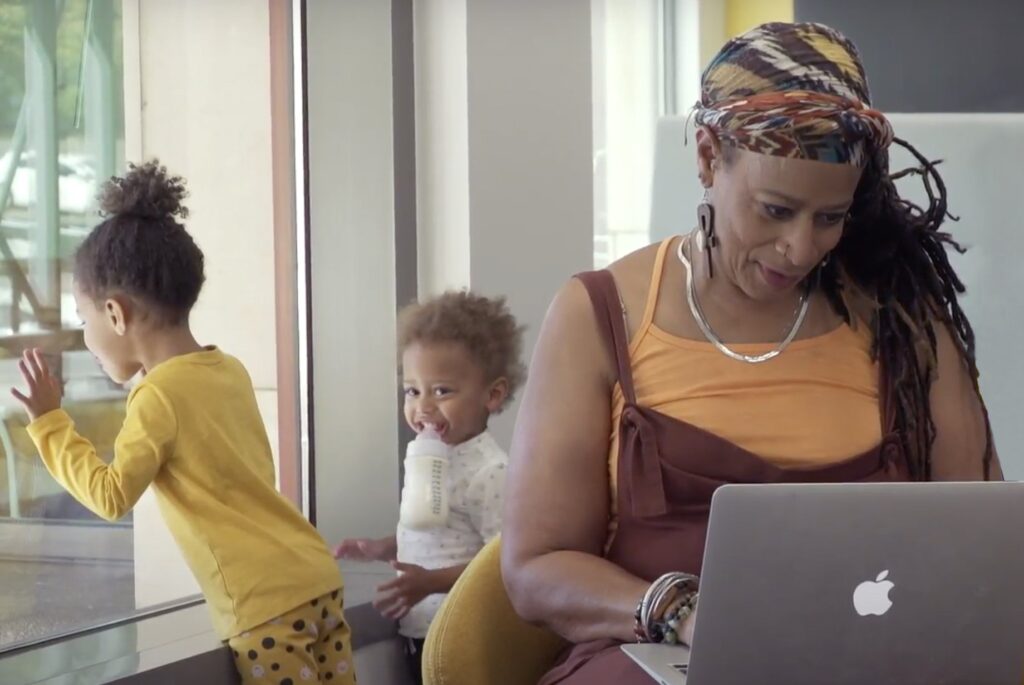 Graduate with Industry Experience
The Core program curriculum teaches full-stack web development allowing students to choose what specialty of software development they want to pursue in their post-Ada careers. The complete curriculum is online and open-source. The front-end and back-end technologies covered include Python, SQL, Flask, HTML/CSS, JavaScript, and Computer Science fundamentals.

A typical day caters to a variety of learning styles and consists of reading, watching videos before class, and small group activity-based learning. You'll graduate with problem-solving skills, industry experience, a capstone project for your portfolio, and the confidence to learn the programming languages across the industry.
Program Overview
Programs Offered Digital
Ada Core Program
Classroom
Digital online (6 months)
In the digital classroom, students learn by doing, and our Instructors are the guides in the process. Classes are online, 6 hours a day and 5 days a week.
Child care subsidies are available for parents with children in daycare and not yet in kindergarten.
Core Hours:
9:30 am – 3 pm PST
Internship Opportunity
Digital or In-person (5 months)
Students receive opportunities to work on engineering teams to complete their training. In addition, they increase their chances of employment with our corporate partners after internship. Each student receives a living expense stipend during this time. Digital internships may be in a different time zone and students may need to adjust their schedule during their internship.
Who You Could Work With*:

*This is not a full list of internship companies. Download the program overview brochure for more company partners.
Ada Build Live
Coding for Beginners
Digital
Free, 8-week virtual series for beginners to learn Python and coding fundamentals. Women, Black, Indigenous American, Native Alaskan, Latine, Native Hawaiian, and Pacific Islander prospective students are encouraged to apply.
Ready to Start Your Coding Journey?
Applications for Ada's Core program open in March and August every year and remain open for approximately three weeks.
For more detailed timeline information, including when classes begin, view our current application timelines here.
Frequently Asked Questions
Ada's Mission
Who does Ada serve?
Ada's mission is to prepare women and gender expansive adults to be software developers while advocating for inclusive and equitable work environments. We primarily serve and address the needs of Black, Latine, Indigenous Americans, Native Hawaiian & Pacific Islander, LGBTQIA+, and low-income people.
Who is included in "gender-expansive"?
Ada uses a national reference for the term "gender-expansive" individuals (also sometimes called non-binary, non-conforming or genderqueer) and Transgender provided by GLAAD: https://www.glaad.org/reference/transgender
Who is considered low-income?
Anyone with an individual annual income of less than the following:
Seattle low income is below $67k
National low income is below $54k
How much does the program cost?
All programs are tuition-free. We recognize students have various living expenses they need to pay while in the program. We offer loan opportunities through our lending partners. Read more about financial support options here.
Coding Experience
I don't have any experience coding. Can I still apply?
Ada's Core Program is not for beginners. Students need to understand foundational concepts such as using loops, lists, and dictionaries. Before you apply, make sure you take some time looking into free resources – there's a ton available! We recommend:
Once you get a handle on the fundamentals, expand your knowledge through the Ada Build curriculum. This is a great start to see if coding is for you! Once you finish the Ada Build curriculum, take this practice test. It is a good example of what our Technical Coding Challenge will look like and help you decide if you are ready to apply to Ada's Core program.
When do applications open and how do I apply?
Applications remain open for approximately three weeks. The application link is available on our website once it has opened. Subscribe to our newsletter to receive regular updates regarding applications and follow us on our social media pages.
Classroom Experience
What time zone will the classes be in?
Classes are offered in the Pacific time zone. Core hours are 9:30 am – 3 pm PST.
Is the curriculum the same across campus options?
Yes. The content in each classroom is the same.
Services
Is there loan and grant assistance for Digital Campus?
Ada has loan opportunities available to students during their time in the program. Learn more
Is childcare available as a student?
We offer childcare subsidies for qualifying applicants.
Do you assist with transportation?
Unfortunately, Ada does not assist with transportation needs.
If you didn't see your question outlined above, please send further inquiries to outreach@adadevelopersacademy.org