Refresh Your Skills and Get Your Foot in the Door
The Accelerate program is a highly sought-after cost-free alternative for programmers who are still on the job hunt after completing a previous bootcamp or CS degree. Each Accelerate Cohort is made up of 24 students who participate in a virtual classroom for three months, followed by a 4-month remote internship.
Classroom Fundamentals

Requirements
Have experience building a full-stack web application.
Have not had a full-time software engineer role in the past 6 months. If you are an Ada graduate, it is required that you have not had a full-time software engineer role in the past year.
Has never had a second internship with Ada before.
Can commit to the 7-month program, which runs from Nov 21, 2022, to June 16, 2023.
Can commit to going to an internship, starting Feb 27, 2023.
This is a program designed to boost the careers of students who have not found lasting employment. This program is three months in-class followed by a four month internship.
Download Free Program Overview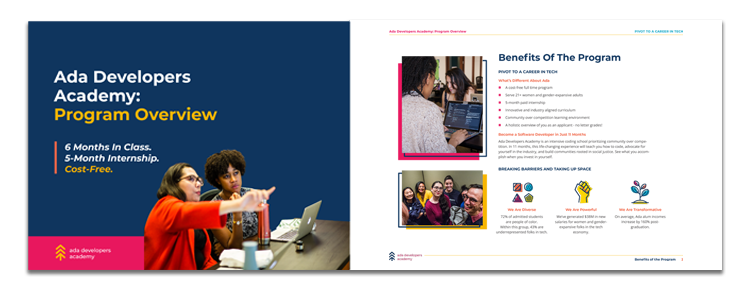 Program Offered
Accelerate Program
Classroom
Digital (3 months)
In the Ada Digital classroom, students learn how to code guided by instructors. Core hours are from 9:30 am to 3:00 pm PST, Monday through Friday. Students learn by doing and our Instructors are the guides in the process.
Admissions Open: June 6 – June 30, 2022
Class Starts: Nov 21, 2022
Internship Starts: Feb 27, 2023
Graduation: June 15, 2023
Internship
Digital (4 months)
Students receive opportunities to work on Corporate partner engineering teams virtually to complete their training. Students receive a stipend of $3,080/month throughout the 4-month internship.
Ada Community
Kickstart Your Career with a Community That Cares

Lift As We Climb
Adie Nation is growing as Adies continue to recruit folks who are competent coders, can communicate their needs, understand the power of diverse teams, and are resilient humans.
Companies with Large Adie Communities

Ready to Start Your Coding Journey?
Applications for Ada's Core and Accelerate programs each open twice a year and remain open for approximately three weeks. Accelerate opens in January and June. Core opens in March and August.
For more detailed timeline information, including when classes begin, view our current application timelines here.